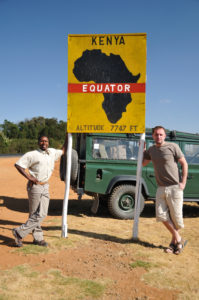 The Top Of Africa is Eco-friendly sustainable tourism project a joint idea from Tanzanian – Sifuel Moshy mountaineering and medical knowledgeable guide and an enthusiast of Africa – Andrzej Gutowski. Our adventure began a long time ago, in the Barranco camp, on the southern slopes of the Kilimanjaro massif where Sifuel led national park team on rescue and environmental aspects, relation continued incessantly until today.
What do we do? In a nutshell: we realize the dream of climbers from all over the world wishing to see Hemingway's famous "snows of Kilimanjaro", a dream of an adventure of a lifetime in the heart of Africa, a dream of welcoming sunrise on the "Roof of Africa."
Hence, the name Top Of Africa became from trekking on Kilimanjaro which is a leitmotif of our company.
There are 6 routes heading up Kilimanjaro and 2 for descending except Marangu route using the same way up and down, We offer 3 different routes that we believe are the essence of beautiful views, abundant nature, and a fascinating struggle with the mountain and, of course, with yourself, to choose from. These routes are: Machame (once called "the whiskey route") before Umbwe renamed, Rongai route , and the longest Lemosho route.
But Top Of Africa is not just for Kilimanjaro trekking enthusiasts, still we offer a trip to subequatorial Mt. Kenya, the smaller brother of Kilimanjaro – Mt. Meru, and especially the beautiful Ngorongoro crater highlands trekking which illuminates spectacular climb to Ol Doinyo Lengai – the Masai Mountain of God.
We conduct our wildlife safaris with a special 4×4 safari fleet with hatched / popped up roof, guaranteed window seat to allow excellent game viewing together with our professional cooks and experienced camping crew, we are excited and fully prepared to offer an excellent service, high standard camping equipment, and show you the authentic African nature, wildlife and traditions, before leaving you to the to the famous "spice island", Zanzibar has historic capital, spice gardens, and idyllic white beaches will be a real respite from the hardships of trekking and safari to total relaxation and sun bathing.