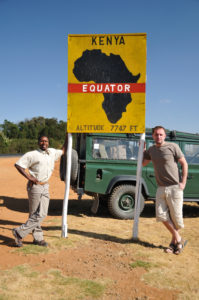 The Top Of Africa project is a joint idea of ​​the Tanzanian guide Sifuel Moshy and an enthusiast of Africa – Andrzej Gutowski. Our adventure began a long time ago, in the Barranco camp, on the southern slopes of the Kilimanjaro massif, and has continued incessantly until today. And what do we do? In a nutshell: we realize the dream of climbers from all over the world wishing to see Hemingway's famous "snows of Kilimanjaro", a dream of an adventure of a lifetime in the heart of Africa, a dream of welcoming sunrise on the "Roof of Africa."
Hence, the name Top Of Africa, because the trekking on Kilimanjaro is a leitmotif of our company. We offer you 3 routes that we believe are the essence of beautiful views, abundant nature, and a fascinating struggle with the mountain and, of course, with yourself, to choose from. These routes are: Machame (once called "the whiskey route"), Rongai, and the longest Lemosho.
But Top Of Africa is not just Kilimanjaro. To trekking enthusiasts, we offer a trip to subequatorial Mt. Kenya, the smaller brother of Kilimanjaro – Mt. Meru, and especially the beautiful Crater Highlands trail, which iulminates in a spectacular climb to Ol Doinyo Lengai – the Masai Mountain of God.